Pre-assembled systems
Polychem Inc. is able to offer you any kind of customized systems for the preparation, dosing and control of chemicals.
Regardless of the type of pump used, the metering skid requires the right accessories and peripherals in order for the unit operate optimally while protecting the system as its operator equally well. Whether it is Pressure Relief Valves, Back Pressure Valves, Dry Run Sensors or Pulsation Dampeners, our specialists will make it a point to inform you about the relevance of considering each of these components in the manufactured system. Our vast experience in industrial processes as well as our complete range of equipment allows us to offer secure, turnkey systems, built to the highest standards of quality, based on very specific selection criteria. In addition to component selection based on application and customer needs and specifications, our team is available for start-up assistance and on-site
Examples of applications:
Sodium hypochlorite
Liquid polymer
Acids
Caustic soda
Light
Sludges
Coagulants
Acids
Etc.
PERISTALTIC PUMPS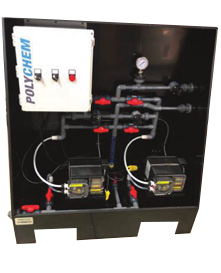 Duplex dosing system with PVC pipes.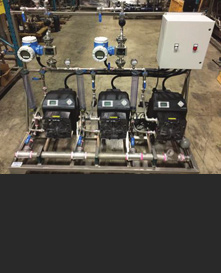 Triplex system with magnetic flow meters and automatic pump control with tube rupture sensor.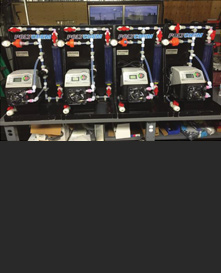 Dosing systems with Chemflare piping and PVDF / Teflon valves accessories.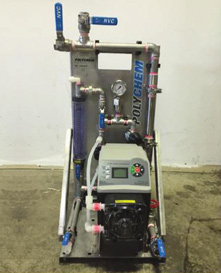 Simplex system with SS31 6 piping, water dilution line with static mixer and control valve.
DIAPHRAGM METERING PUMPS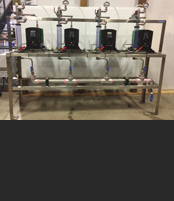 Quadruple dosing system with independent injection points and common suction.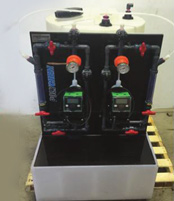 Duplex dosing system with chemical storage tank and retention basin.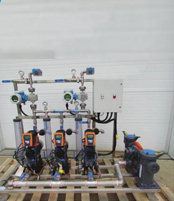 Duplex dosing system with chemical storage tank and retention basin.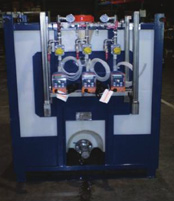 Triplex dosing system with stainless steel structure that can be installed on the ground or directly on a semi-bulk tank.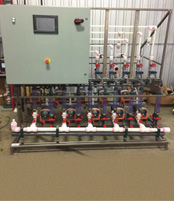 Five-zone injection and mixing system, with PVDF piping and touch-screen control panel.
POSITIVE DISPLACEMENT PUMPS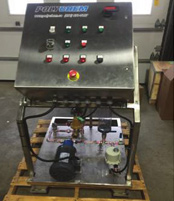 Automatic cleaning system with magnetic drive gear pump and electric valves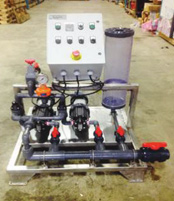 Duplex system with mag drive PTFE gear pumps.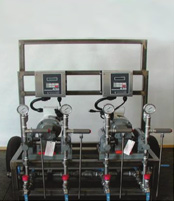 Portable duplex injection system on wheels with piston metering pumps controlled by a frequency converter.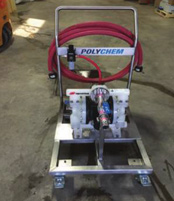 Pneumatic transfer pump on mobile stainless steel cart.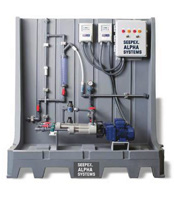 Simplex or duplex system with progressive cavity pumps and automatic control.